Tooling for Forging Hammers
Before beginning this discussion I want to encourage visitors to get the book Blacksmith's Manual Illustrated by J.W. Lillico. Most of the book is devoted to tooling for use in steam hammers. The book is available for free download from The Countryside Agency at this address: http://www.countryside.gov.uk/NewEnterprise/Economies/craftpublications.asp. Most of the information and drawings in this book apply to air/steam hammer tooling and work. My top pick for this subject. Illustrated with simple drawings- no photos.
Under construction. Updated 25 February, 2011
Cutting Tools

Hand-held chasing stamps and dies

The tools shown at left were available previously during the 1980's and 1990's from Centaur Forge - made in Germany by H. M. Gruel. This tool set (gesenke) is available directly through Gruel. See their website here: http://www.gruel-maschinen.de/index.htm . The hand held stamps shown in the photo (at left) are held with a special tong while forging. The special tong is inserted through a hole in the stamp and the curved outer jaw of the tong holds the die securely.
The picture at left was scanned from the same Bill Pieh letter concerning Kuhn air hammers on the Air Hammers resources page: http://www.beautifuliron.com/gs_forging_hammer_resources.htm .
---
---
Tooling Vendors
Glendale Forge
Glendale Forge, made in Britain. Glendale Forge, Monk Street, Thaxted, Essex, England. Tel: 01371 830466 http://www.glendaleforge.co.uk/ High quality British-made tools for the blacksmith, ironworker, and farrier. Swages, cutters, and other forging tools for use hand forging and machine forging. Also offers new side-blast blacksmith's forges and parts.
Angele
Angele Schmiedetechnik, Bahnhofstrasse 23, Reinstetten, D-88416 Ochsenhausen, Tel ++49-(0)7352-92 26-0 Deutschland (Germany) http://www.angele.de/ Huge inventor of blacksmith's tools and machinery. Website is in three languages - German, French, and English. To access these languages, click the "Shop" link in the navigation bar at top of page, and then click on the little flag icon in the upper right corner of website to change language. There are two listings for swages under the Forging Tools navigation link. Click the second 'swages' link for power hammer and air hammer swages. Angele also offers 4 different brands of new air hammers for sale including; Kuhn, Say-Mak, Anyang, and AREF.
The Blacksmith's Depot
Kayne & Sons - Blacksmith's Depot Kayne & Son Custom Hardware Inc.100 Daniel Ridge Road, Candler, NC, 28715 USA Tel: (828) 667-8868 Or (828) 665-1988 https://www.blacksmithsdepot.com/ U.S. distributor for Off Centaur Forge swages and tools. Off Centaur Forge swage dies are made as first generation impressions by CNC die making machines rather than second generation impressions stamped into the die. Swage dies made from 4140 steel for toughness and very long wear. Kayne & Sons has been in business since the late 1950's as a blacksmith shop. Now known as the Blacksmith's Depot, they offer tools and machinery for blacksmiths. Visit their website their website to see photos of their modern blacksmith shop, or better yet, visit them in person and see their tools in action. Kayne & Sons Blacksmith Depot also offers new Iron Kiss pneumatic forging hammers.
Pieh Tool Company
Pieh Tool Company 661 E Howards Road, Suite J, Camp Verde, Arizona 86322 USA, Phone: 928-554-0700 http://www.piehtoolco.com/ Selling Victory Forge swages and tooling. Victory Forge is a blacksmith shop located near Pieh Tool Company store. Pieh Tool Company often partners with Victory Forge to offer classes for new blacksmiths. Victory Forge swages are made from mild steel. Visit Pieh Tool Company and see these tools in action. Pieh Tool Company also offers new Sahinler Air hammers for sale. Amy Pieh is the daughter of Bill Pieh - the original founder of Centaur Forge, so she has a long history of serving blacksmith's throughout the U.S.
Centaur Forge
Centaur Forge has two locations in the USA -Wisconsin & Texas. Centaur Forge - Wisconsin 117 N. Spring Street, Burlington, WI 53105 Phone: 262-763-9175 Hours: Monday - Friday, 7:30 a.m. - 6:00 p.m. Centaur Forge - Texas 1367 B Industrial Drive, New Braunfels, TX 78130 Phone: 830-627-2300 Hours: Monday - Friday, 7:30 a.m. - 6:00 p.m. http://www.centaurforge.com/ Centaur currently has a limited supply of Off Center Forge brand spring swages and dies in stock for power hammers and air hammers. Off Center Forge brand spring swage dies made from 4140 steel for long wear. I spoke with a sales representative from Centaur in January of 2011, a large part of their of power hammer swage inventory has been put on close-out sale, and when this inventory is gone, it will not be replaced or reordered until the economy improves.
H.M. Gruel
Frickenhausen, Germany. http://www.gruel-maschinen.de/index.htm Made in Germany. Pneumatic forging hammers and tooling for forging hammers.
---
---
---
Updated 25 February, 2011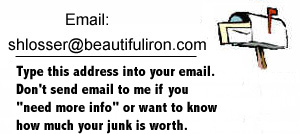 Page Created 12 March, 2006.
---